MOSCOW (RPN) — Declaring himself "humbled by this deserved honor," Russian president Vladimir Putin today proclaimed himself Supreme Ruler for Life of the Russian Federation and as Many Countries as I Can Annex or Otherwise Grab.
"Which should be a lot," Putin said to thunderous applause during an hour-long address to a joint session of the Russian Parliament.
"This has nothing to do with so-called megalomania or other insults hurled by envious Western losers. This is the people's will," Putin declared.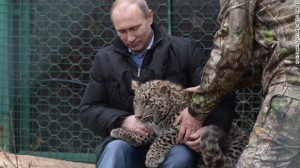 Putin did not, however, name a single person whose will it actually was.
In what he described as a "good-faith" effort to validate his new title, Putin called for Russia-wide elections asking citizens for a simple "yes" or "no" vote. Critics of Putin immediately asserted that "no" votes would never be counted. An hour later, these critics were all found dead. The Kremlin denied involvement.
The White House responded swiftly to the latest threat from the Russian leader, who has raised international tensions with his post-Olympics intrusions into Ukraine and his continued support of Syrian president Bashar al-Assad.
"Is there a person on the planet who doubts Putin's unlawful and naked ambitions are heading the planet toward war?" press secretary Jay Carney said at his daily briefing.
Carney confirmed that President Obama had met with Secretary of State John Kerry, Defense Secretary Chuck Hagel and his National Security staff regarding the U.S. response to Putin's latest provocation.
"All options are on the table," Carney said. Among the possible new sanctions under consideration, he said, are "banning of American sales of all cocktails with the word 'Russian' " and forcing Brooklyn Nets owner Mikhail Prokhorov to move his team back to New Jersey — "if the state would have them, which is doubtful," Carney was caught saying off-mic.
Putin has been "elected" three times to the Russian presidency, most recently in 2012, when he succeeded Dmitry Medvedev, who has not been heard from since.
The new Supreme Ruler's moment of triumph began when he entered the Kremlin bare-chested save for a Kalashnikov slung across his shoulder. As is customary for the former KGB operative on formal occasions, Putin rode bareback on Barack, the official state Siberian Tiger. Defanged before becoming mascot, Barack then sat beside Putin, purring adoringly.
Remarkably, given demonstrations in recent years by Pussy Riot and other dissenters, no protestors gathered outside the Kremlin, where Putin spoke. A spokesman for the new Supreme Ruler later denied reports that the entire nation had been placed under house arrest for the day.
In a media conference after his installation, Putin discussed other titles he had considered claiming. He could not find one that deftly incorporated the word "testosterone,'' he said.
Putin said the inaugural ball will be held next week in Kiev. Following the festivities, the new Supreme Ruler will travel by military convoy to spend a few days' vacation at his new shorefront summer home in Gdansk.
Read all the Putin articles at absrdCOMEDY!
For breaking Real Putin news, visit @RealPutinNews
© Absrd Comedy, LLC – a parody site for entertainment purposes only. Laugh. Enjoy! Individual opinions expressed are those of the individual authors, not necessarily of absrdComedy, and may not even be those of the individual authors.